Thu., Feb. 19, 2009, 3:33 p.m.
Bill Bans Repeat DUIs From Booze Buy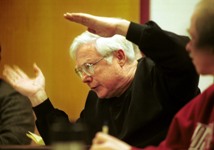 Rep. Jim Clark, R-Hayden Lake, proposed legislation today that would ban repeat drunk drivers or those who drive drunk at far above the legal limit from buying or possessing alcohol, for anywhere from five years to life. "Have you ever read in the paper about somebody with their eighth DUI, their ninth DUI, 10th DUI?" he asked the House Judiciary Committee, which he chairs. "This will put a stop to it. … This is a big idea. It's a total shift in how we deal with these individuals." Clark said the bill hasn't yet been reviewed by sheriffs or others; he asked the panel to introduce it so that discussion could start/Betsy Russell, SR Eye On Boise. More here.
Question: What do you think of the Rep. Jim Clark's idea to ban repeat DUIs from buying alcohol?
---
---