Thu., Jan. 15, 2009, 1:30 p.m.
TomVA: Time For Boise To Secede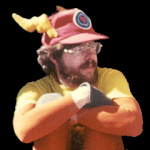 Anti-Boise sentiment is easy to drum up in this state, since we're the Capital city and everybody hates government. But after the latest shuffling in the membership of the key budgeting body of the Legislature, the Joint Finance and Appropriations Committee, the Treasure Valley finds itself on the decidely short end of the not-quite-so-big stick of this year's budget: just three members instead of the six we used to have. The Mountain Goat Report picked up the editorial from south-central Idaho, where the Magic and Wood River valleys (Twin Falls, Sun Valley, that lot) have temporarily stumbled into the 30% of the Committee membership that we used to have/Fort Boise. More here.
DFO: Here, in North Idaho, we've been short-changed and ignored for years by the Idaho Legislature. There were times when we had one or no representatives on the budget committee. And little influence elsewhere. Ada County, the state's most populous county, is going through something similar now. It's hard to feel sorry for the Kingdom of Ada, given its pols haven't felt sorry for us in the past.
Question: Do you feel ill will toward Boise, Ada County, or the Treasure Valley?
---
---