MichelleO Styles In Isabel Toledo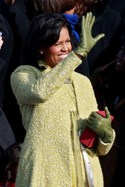 First lady Michelle Obama wore a sparkling yellow-gold sheath dress with matching coat by Cuban-born American designer Isabel Toledo for the inauguration of her husband, a choice many applauded as a cheerful message of hope and a vote for the American fashion industry. She paired the embellished ensemble with green gloves from J. Crew and green shoes. President Barack Obama wore a red tie and white shirt with his suit, topped with an overcoat adorned with an American flag pin. Their daughters were style icons in their own right, with 10-year-old Malia in a double-breasted periwinkle-blue coat with a blue-ribbon bow at the waist, and Sasha, 7, in a pink coat with orange scarf and satin belt, a coral-colored dress peeking out at the hem. Their coats were from Crewcuts by J. Crew/AP. More here.
Question: What did you think of the new First Lady's outfit at the inauguration?
---
---