MONDAY, JULY 6, 2009, 1:23 P.M.
Condo Prices Falls Ahead Of Auction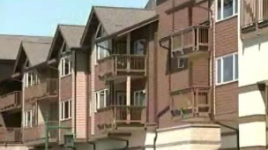 With just a week and a half to go prices have dropped yet again for luxury condos being sold in the Village at Riverstone auction in Coeur d'Alene. The latest starting bid price drop for a one-bedroom unit is $204,000 less than the original asking price. From newspaper ads to auction signs advertising starting bids at $125,000 the luxury one, two and three condos off Northwest Boulevard have dropped in price by nearly 50-percent, which is attracting bargain hunters and the curious alike. In the 20 years that Nellrae Kealy has lived in Coeur d'Alene she's never seen anything quite like this/KXLY. More here.
Question: What would it take to get you into one of these condos?
---
---