Thu., July 9, 2009, 9:32 a.m.
Aryan Nations Hate Children Live On
(Warning: Objectionable language) An organization that tracks hate groups says records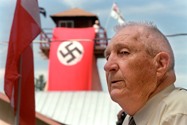 show there are more such groups now than ever before. In an effort to help determine why, KOMO News got an exclusive interview with a member of the Aryan Nations and with those determined to stop the hate. Jerald O'Brien stamped his skin with symbols of the Aryan Nations. "We alone are his children," he said. He named his daughter "Berlin." "Hitler was a great man," O'Brien said. And he hears the battle cry of a brotherhood in a race war. "Now we have a slave reigning over us," he said, referring to President Barack Obama. And when O'Brien looks at the headstone of Pastor Richard Butler in a Coeur d'Alene, Idaho cemetery: "I promised Pastor (Richard Butler, pictured) and my father, who art in heaven, that I would not let this die and I won't lose my faith"/KOMO. More here.
Question: The Southern Poverty Law Center gives three reasons for the rise of hate groups: Exploitation of the illegal immigration issue, the crumbling economy and the historic election of Barack Obama. Are you surprised that hate groups are taking advantage of current circumstances?
---
---