WEDNESDAY, JULY 15, 2009, 11:47 A.M.
Nominee Explains 'Wise Latina' Quip
U.S. Supreme Court nominee Sonia Sotomayor said Wednesday that her controversial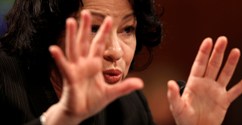 statement that a "wise Latina" could reach a better decision than a white man was a poorly expressed but valid point about the value of differing perspectives in applying the law. Sonia Sotomayor answers questions from senators on Wednesday, the third day of her confirmation hearings. Under questioning from Republican Sen. John Cornyn of Texas on the third day of her Senate Judiciary Committee confirmation hearing, Sotomayor said the remark she made in several past speeches was never intended to mean that one gender, ethnic or racial group was better than another. "It is clear from the attention that my words have gotten and the manner in which it has been understood by some people that my words failed," Sotomayor said. "They didn't work"/CNN. More here.
Question: What do you make of the hubbub surrounding Sotomayor's 'wise Latina' statement?
---
---