Wed., July 22, 2009, 10:28 a.m.
Roundup: Legion Honors Rez Cop
Rob Wienclaw might not want anyone to know it, but he has a shiny new plaque. The longtime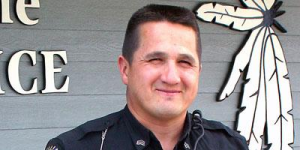 officer with the Coeur d'Alene Tribal Police Department was recently named Policeman of the Year by the Idaho American Legion. "I was kind of embarrassed," Wienclaw, a sergeant going on his 13th year with the department, said. He thought some of his coworkers deserved the award more than he did. Coeur d'Alene Tribal spokesman Marc Stewart did some talking for Sgt. Wienclaw. "It definitely shows that the best law enforcement officers in the state are working right here on the reservation," he said. Mr. Stewart added that he hoped Sgt. Wienclaw's honor would allay the idea that tribal cops aren't trained/Rebecca Thomas, St. Maries Gazette-Record. More here.
Question: The Coeur d'Alene Tribe's annual Julyamsh celebration will begin Friday. Have you ever attended the event. Do you plan to attend the event this year?
---
---