Under a 1936 U.S. Patent and Trademark Office certification, the commission can regulate the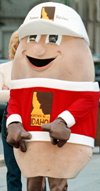 way the word Idaho is used in connection with any potato product. And if the commission doesn't enforce the rules consistently, the feds could rescind the certificate, said commission president and CEO Frank Muir. Enter the Idaho Fry Co., which opened two months ago. The restaurant could keep Idaho in its name, Muir said, if it pays a $100 annual fee, agrees to use 100 percent Idaho potato products and submits to commission auditing. The commission isn't bluffing, either; it runs DNA tests on restaurant samples to make sure a potato is as Idaho as advertised. Oh, and the restaurant would also have to change its name in some undefined manner that makes clear that the Idaho Fry Co. is not Idaho's fry company. Something, says Muir, like Fry Co., featuring Idaho potatoes/Idaho Statesman. More here.
Question: Izzit me — or does the Idaho Potato Commission seem to be more than a bit anal about the use of the Idaho brand name?