Wed., May 6, 2009, 9:23 a.m.
Pharmacy Provides Baby Wrong Drug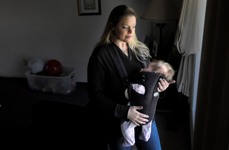 Lindsay Lindberg had needed special help from the start. The infant was born in November with a heart defect that left her fatigued and unable to nurse. Her mother, Courtney Lindberg, had been filling a host of prescriptions at a Walgreens pharmacy in north Spokane. Medication was supposed to be a temporary solution until surgeons could patch the holes in Lindsay's walnut-size heart that had left her weak since birth. Instead, because of a labeling mix-up, it could have been fatal. Now the mother is urging other parents to double-check the medicines they bring home from pharmacies for their children. Walgreens has apologized for the incident and says it's spent a billion dollars to prevent similar problems/John Stucke, SR. More here.
Question: How closely do you check to double check that you've been provided the right drugs by your pharmacy?
---
---