THURSDAY, MAY 14, 2009, 9:30 A.M.
Greed Is Good @ Lake Coeur d'Alene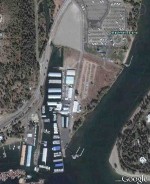 If you see an armada of kayaks led by Julie Dalsaso this coming Saturday near the Blackwell Island marina here's why: Along with the Kootenai Environmental Alliance, she wants citizens to look at the area where the Hagadone's are planning to release 121,000 cubic yards of sediments so they can build a new port for luxury yachts with no regard to public health. This is the uppermost reach of the Spokane River, a popular spot for paddlers. But what lies beneath are heavy metals from a century of mining in Silver Valley. "The Lake Management Plan does not call for dredging of the lake bottom because it's thought that leaving the contaminated soils in place is a safer management solution," attorney Rick Eichstaedt said here at the Center For Justice. "So this proposal sets a negative precedent. We don't have a plan for dealing with dredging like this in the lake"/Paul, Down To Earth. More here.
Question: Are you concerned about this proposal? 
---
---