Mon., Nov. 2, 2009, 11:46 a.m.
Minnick Makes 'Vulnerable' Top 10
Thinking one year out to the 2010 elections, Idaho Rep. Walt Minnick has made an unenviable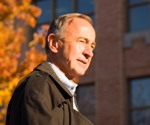 Top 10 list. The first-term lawmaker has made the list of the 10 most vulnerable House incumbents, as compiled by Beltway reading staple Roll Call. Ranking aside, how much is Minnick at risk? Minnick certainly fits the vulnerability profile explored by Roll Call's Bob Benenson. Minnick is a Democrat who rode his party's gains to win in a conservative congressional district. Nine lawmakers on Benenson's top 10 list are Democrats. Six of them represent districts that supported Republican John McCain in the 2008 presidential election — in Minnick's district, McCain won by 26 percentage points/Kevin Richert, Idaho Statesman. More here.
Question (for those who didn't vote for Minnick in 2008): Have you changed your mind about Minnick. If the election were held today between Minnick and (Repub Vaughn Ward or Ken Roberts), who would you vote for?
---
---