Fri., Nov. 20, 2009, 8:47 a.m.
Oprah To Pull Plug In 2011
Oprah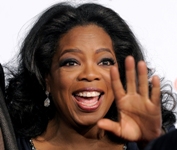 Winfrey knows how to keep viewers on the edge of their seats. In the last 10 minutes of her show, Winfrey confirmed that she will be ending her syndicated "Oprah Winfrey Show" in September 2011. "After much prayer and months of careful thought, I thought that next season, season 25, will be the last season of 'The Oprah Winfrey Show,' " she told the audience. "You may hear a lot of speculation in the press about why I'm making this decision now, and I wanted you to hear it from me," she said. "Twenty-four years ago on September 8, 1986, I went live from Chicago to launch the first show. I was beyond excited, and a little nervous"/CNN International. More here.
Question: Can you live without the 'Oprah Winfrey Show'?
---
---