Thu., Sept. 24, 2009, 10:34 a.m.
Ben Stein Plugs Away In Sandpoint
But we are not in a big city. We are up in Sandpoint, Idaho. Weather perfect although warm.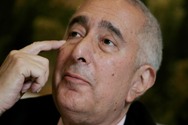 Lots of friendly people. My great little Thompson boat with its pastel blue-green upholstery, like a Beach Boys boat. I am happy to be here. The kids come up to me for autographs. I love that. The girls giggle and want their picture taken with me. Everyone who drives by waves at me. Contrast that with Beverly Hills, where no one even says "hello" when you walk past. Or Malibu, which I love beyond words, but it really lacks friendly people except for Cruz, my pal at Howe's Market, and Dusty Peak, my electrician pal/Ben Stein, American Spectator. More here.
Question (for non-North Idaho natives): Is your North Idaho community friendlier than the place you moved from?
---
---