MAC, WAC Sign Humanitarian Deal
The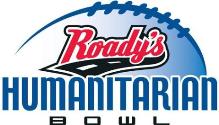 Roady's Humanitarian Bowl today announced the signing a four-year agreement that will match top teams from the  Mid-American Conference (MAC) against top opponents from the Western Athletic Conference (WAC). Qualifying teams will be selected according to each conference's criteria for bowl participation. The MAC is committed to send its third selection of bowl-eligible teams to the Boise bowl game.  The WAC is committed to send one of its top teams/KTVB. More here. And: Brian Murphy's views on deal here.
Brian Murphy/Statesman via Twitter: "

The H-Bowl will have the No. 3 pick from the MAC. Had the No. 8 pick from the ACC. Tried to land MWC or Pac-10 team, but couldn't."
Question: As you recall, UIdaho edged Bowling Green last December in a Humanitarian Bowl thriller. Are you glad to see the WAC and MAC make this deal?
---
---