Fri., April 9, 2010, 9:36 a.m.
Press: Double Standard On River
For about five hours Monday, various parties participated in a "dispute resolution hearing" in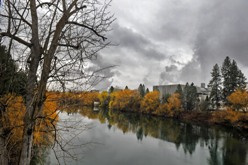 Spokane. The purpose of the meeting was for interested groups to tell a five-member panel of Washington Department of Ecology staffers why they support or oppose the proposed water quality standards for the Spokane River. ... Here's the beef: The Washington Department of Ecology has recommended a much more rigorous water quality standard for Idaho than for itself. While Washington would be permitted 42 parts per billion of phosphorus, Kootenai County would be held to a standard of 36. Even if the technology were developed to meet that 36 parts standard - which would be the most rigorous in the nation - finding the millions upon millions of dollars to totally overhaul wastewater treatment facilities in Coeur d'Alene, Post Falls and Hayden seems all but impossible/Coeur d'Alene Press. More here.
Terry Harris tweets: "

In Boise for a couple of days, but we'll have more to say about the Spokane River next week. It's not so simple ...
Question: What do you make of the insistence by the Washington Department of Ecology that sets a tougher water quality standard for Kootenai County towns along the Spokane River than for Spokane County ones?
---
---