Fri., April 9, 2010, 9:55 a.m.
Stout Represents New Tea Party Face
Stout is a 66-year-old Sandpoint resident, retired grandmother, U.S. citizen and native of Great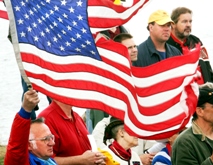 Britain whose political fires were stoked by the government's massive spending in response to the financial collapse. She was featured prominently in a long New York Times piece in February about the tea parties, and she landed on "The Late Show with David Letterman" last week. Since then, the geniuses of the Internet have chewed her over from every angle. She's a "sweet little old lady from Idaho." She's a "racist." She's "well-spoken" and "middle-aged." ("I really thought I was old," she said.) She's naïve and ill-informed. She's a hero. She's a villain. When Fox News bloviator Bill O'Reilly referred to tea partiers as loons, a picture of Stout was displayed behind him. Stout rises above it. "When people say hurtful things about you," she said, "they generally come from their own pain"/Shawn Vestal, SR. More here w/video of Letterman appearance. (AP FilePhoto)
Question: Do you know anyone involved in the Tea Party movement? Are they fringe people? Or salt-of-the-earth people like Stout who are concerned w/fiscal issues?
---
---