Mon., April 12, 2010, 9:30 a.m.
OTV Review: Great Harvest Bread Co.
The Coeur d'Alene branch of Great Harvest is located in a large converted home, a multilevel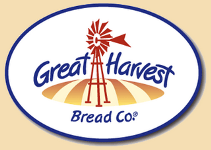 '60s affair with an interior design scheme that makes the place feel like the Brady Bunch's farmhouse country getaway. I almost expected to see Ann B. Davis as Alice pop out from somewhere behind the hot cross buns in her blue uniform and wink at me. I'd guess the main counter and baking zone used to be the living room and kitchen, and just up an open flight of stairs is the lunch area, formerly Peter and Bobby's room. It's a bright, airy space with wooden booths and a smattering of works by local wildlife artist Sheila Bledsoe, including a cranky ostrich drawing with the apt caption "kneads caffeine"/OrangeTV, Get Out! North Idaho. More here.
Question: Have you ever eaten better baked bread than that which is provided daily at the Great Harvest Bread Co. on Government Way?
---
---