Wed., April 14, 2010, 9:35 a.m.
CdA Tribe Now No. 2 NIdaho Employer
The Coeur d'Alene Tribe has become one of North Idaho's largest employers, issuing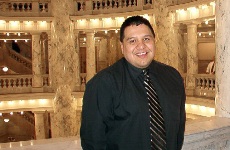 paychecks to nearly 1,700 people last year. Only Kootenai Health, the parent company of Kootenai Medical Center, a cancer and heart center, and several clinics, had more workers. The tribe employed 1,699 people last year at the Coeur d'Alene Casino and other government and business ventures, according to a University of Idaho study released Tuesday. The Idaho Department of Labor, which calculates employment slightly differently, said the tribe had 1,549 workers in 2009, compared to 1,813 at Kootenai Health. "The real story here is the tribe's emergence as one of the region's largest employers," said Steven Peterson, UI economics professor who did the study. "They have diversified and expanded in all directions"/Becky Kramer, SR. More here. (SR File Photo/Betsy Russell: Chief Allen, Coeur d'Alene tribal chairman is shown at the Statehouse.)
Question: Given the emergence of the Coeur d'Alene Tribe as a major employer in North Idaho, does it make any sense that it is treated poorly by Benewah County elected officials?
---
---