Wed., April 14, 2010, 9:17 a.m.
KHQ: U-High Paper Column Offends Many
Some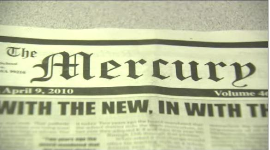 journalism students and a teacher are learning a hard lesson in ethics after printing racial and offensive language in their high school newspaper. It happened at University High School in the Central Valley School District. The latest edition of the school newspaper, The Mercury, was printed on Friday, April 9th. Random students were asked "If you could be famous for anything, what would you be famous for?" One sophomore wrote he wants to be famous for quote" Killing someone famous." Others said "Mass murderer," "Having an affair with the President," "Dropping a nuke on the Middle East," "Killing the President with a trident," "Leader of the KKK" and "Being JFK's assassin"/KHQ. More here. (KHQ Photo)
Question: Would you be offended by this provocative column? And/or: What would you like to be famous for?
---
---