Sat., April 17, 2010, 6:10 a.m.
Tribes Have $850M Impact On Idaho
The five tribal nations in Idaho have an economic impact of more than $850 million, according to a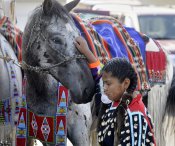 new University of Idaho study. Conducted by UI economist Steven Peterson, the study was commissioned by the Nez Perce, Coeur d'Alene, Kootenai, Shoshone-Bannock and Shoshone Paiute tribes and looked at numbers from 2009. It found that tribal business activities in gaming, retail, agriculture, natural resources and other areas have increased total employment statewide by 10,516 jobs, generated $852.7 million in annual sales, and raised the gross state product by $487.3 million/Joel Mills, Lewiston Tribune. More here. (SR File Photo/Dan Pelle: Marque Wilson, age 9, Lapwai comforts her horse "Indian King" during the Coeur d'Alene Tribe's 2008 Julyamsh Encampment in Post Falls.)

Question: Do you think local governments in northern Idaho do enough to partner with the 3 Panhandle tribes to benefit one another?
---
---