Dennis: 'Coach Pete' New Face Of Idaho
Coach Pete's salary was disclosed today. I'm certain many will balk at his million+ salary.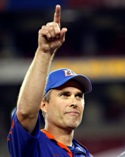 I'm also certain that few of the complainers will take into consideration that his effort and the effort of his coaches to make BSU the premier football program that it is HAS indeed translated into dollars into many more dollars within our state's economy. The PR on behalf of Idaho is amazing. Just two decades ago, Idaho had a skin-head-close brush with infamy. Now, Idaho is a destination haven for college kids, their parents and businesses that know success when they see it. All because of Coach Pete? C'mon ... please. The fact IS that Coach Pete's image represents a "new" Idaho ... and his smiling, positive face is more recognizable across the US than is our Governor's mug ... or our Senators' mugs ... or, well you get the idea/Dennis Mansfield. More here.
Question: Is Dennis right? Is wildly successful Boise State football coach Chris Petersen changing the image of Idaho nationwide?
---
---