Wed., April 21, 2010, 9:19 a.m.
Murrow Winners: Tweet With Care
Pintak asked the journalists if they have a Twitter account and how they avoid giving their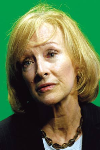 personal bias in their tweets. (Judy Woodruff/PBS "News Hour with Jim Lehrer," pictured) said she has a Twitter account, but admitted she is still learning how to tweet. "(The) News Hour feels (Twitter) is something important, frankly, to bring attention to what we are doing," she said. Woodruff said other media networks also are using social media. Pintak cited the New York Times reporter who tweeted "Toyota sucks" and asked the journalists if they thought that was right to do. Fields said sometimes people forget that Twitter, Facebook, and e-mails are publications. She said she personally doesn't have a Twitter account.  "Maybe I'm behind the times, but I don't like that," she said. Still, she said, ProPublica does blog often/Yesenia Amaro, Moscow-Pullman Daily News. More here. Also: Joel Mills/Lewiston Tribune story of event here.
Question: Would you like to see more reporters, editors, newscasters involved in blogging, Twitter, and Facebook?
---
---