Wed., April 21, 2010, 2:34 p.m.
Tankovich: Not A Racist, Moves A Lot
In the jailhouse interview with KXLY, though, Tankovich insisted that he's not a racist. But what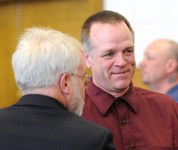 about your Aryan Pride tattoos, asked reporter Sally Showman. His response? "I know its ties and what other people assume it means ... In California it doesn't have that meaning ... I looked it up in the dictionary and it said 'nomadic tribesman' and it applied to my nomadic lifestyle with my wife Connie." Right, and "Kill Whitey" just refers to a disdain for former Kansas City Royals manager Whitey Herzog. Tankovich says he intends to get the tattoo removed. "I started regretting this tattoo," he said. "I thought 'Wow, I better get this removed'"/Joel Smith, Pacific Northwest Inlander. More here. (KXLY video below)

Question: What do you make of Ira Tankovich's explanation of his Aryan Pride tattoos?
---
---