Thu., April 22, 2010, 8:13 a.m.
NFL Draft: Iupati Could Go No. 8
Only hours from the start of the NFL draft, University of Idaho guard Mike Iupati can rest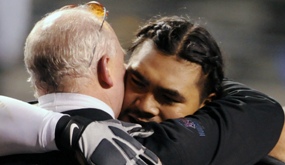 assured he will be drafted in the first round, but just where he'll end up is anyone's guess. Iupati will be watching the draft live on ESPN today at 4:30 p.m. in California and waiting for his name to be called by NFL commissioner Roger Goodell with his family and an ESPN film crew. "I'm just excited. I can't wait to find out where I'm going, put on the pads and start playing," Iupati said in a news release issued by the UI. It could be a quick night. The latest rumors have Iupati coming off the board at No. 8 to the Oakland Raiders. ESPN's Michael Smith tweeted, "The Mike Iupati to Oakland @ #8 talk is picking up steam. Two league sources who know the Raiders well tell me that's who they're targeting"/Devin Roykyta, Moscow-Pullman Daily News. More here. (AP Photo/Idaho Press-Tribune, Greg Kreller: Mike Iupati embraces Coach Robb Akey after Idaho defeated Bowling Green in the Humanitarian Bowl Dec. 30.)
Question: Will you be following Vandal guard Mike Iupati and the NFL draft today?
---
---