Thu., April 22, 2010, 8:05 a.m.
'Truckgate': Much Ado About Nothing?
Seems Vaughn Ward's "truck" ad in his congressional primary race with Raul Labrador has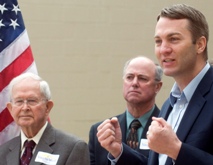 stirred up Boise. Quoth: Statesman columnist Dan Popkey: "Ward, of Eagle, then gets in the Dodge Ram with the radio tuned to a news station at AM 570, which is not a station in Idaho. Ward's Campaign Manager, Ryan O'Barto, said the sound is a special effect and that the ad was filmed in Eagle. A Ward supporter provided the truck and the film was digitally altered to obscure the license plate, O'Barto said." Idaho Conservative Blogger dismissed the flap as "another round of the Much Ado About Nothing issues that have plagued this race." ICB notes, "The valley was all abuzz because the truck wasn't Wards and the Radio station and voice were fake." Then: "So What! My friends, Ward is not the first candidate to use props in commercials and will not be the last. Though, this might be the first time the press has pointed it out"/Idaho Conservative Blogger. You can see the full ICB post and Vaughn ad here. (AP Photo/Idaho Press-Tribune, Greg Kreller)
Question: Do you see any problem w/Vaughn Ward's first ad, which features a borrowed truck and music from a non-Idaho station?
---
---