Fri., April 23, 2010, 1:13 p.m.
Kerri: Fatal Crash Still Reverberates
I know exactly where I was and what I was doing and every minute detail of Friday, April 23,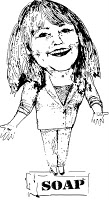 1971. Actions on that date impacted three generations of my family. When Larry Oleson and his friend, Rod Hart, were killed in an alcohol-related crash on East Sherman Avenue about 10:30 p.m., life as I knew it was changed forever. The driver survived. Larry was 22, a Vietnam combat vet with a Purple Heart, and a student at NIJC. We had found out just three days before that a baby was on the way. By the end of the day on April 23, 1971, Larry was dead. On April 23, 2010, I can't help but walk down that path of wondering what could have been in the thirty-nine years since. Our daughter, Melani will turn 39 in November and our grandson, Jared turned 13 this past December. Neither ever knew their father/grandfather. A lifetime lost/Kerri Thoreson, More Main Street. More here.
DFO: My father was killed in a two-vehicle crash on Oct. 19, 1976. I know what Kerri means. A sudden death of a loved one can have long-range repercussions on a family
Question: Has an automobile accident had a major impact on your life?
---
---