Fri., April 23, 2010, 8:42 a.m.
Mike Iupati Returns To California
Former Idaho guard Mike Iupati will be trading in one gold helmet for another this coming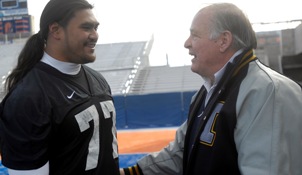 season after being drafted by the San Francisco 49ers with the 17th pick in the NFL draft Thursday. Iupati, who was at home in California with his family, said he knew moments before the nationally televised announcement that his name would be next. "Right when I got the call, I was so excited," said Iupati, who looked the part during ESPN coverage of the draft that showed him awaiting the announcement then hugging his parents and other family members. "It was very emotional." It marked the end of a long day for Iupati, who said his Mom woke him at 6:30 a.m. to make sure everything was in order for the arrival of the television crews and a house full of company/Moscow-Pullman Daily News. More here. (AP File Photo/Idaho Press-Tribune, charlie Litchfield: Vandal Mike Iupati visits with Jerry Kramer, a former NFL player and All-American at Idaho, before Idaho's 2009 Humanitarian Bowl win over Bowling Green.)
Boise State star Wilson also goes in first round

/Chadd Cripe, Statesman

Question: Since Mike Iupati was drafted after hours last night, we didn't get a good chance to discuss news that the Vandal was a first round pick. What do you think of that?
---
---