Tue., April 27, 2010, 4:17 p.m.
IFF: Capital For A Day
In Fiscal Year 2010, Idaho taxpayers have spent an average of nearly $8,200 per month to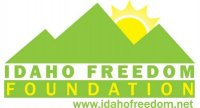 bring the government to the citizens … literally.  Between July 2009 and February 2010, Gov. Butch Otter's "Capital for a Day" program had a price tag of more than $65,000, and not all state officials believe it's a good use of money. Capital for a Day is a town-hall style meeting, conducted at a selected small town each month.  Last July, Gov. Otter and the state contingent travelled to Mackey to get some face time with citizens there.  In August, Ririe was Capital for a Day, followed by Kendrick in September, Dubois in October, Lava Hot Springs in November, Carey in December, Shoshone in January, Hazleton in February, Nezperce in March, and Oakley in April/Jay Howell, Idaho Freedom Foundation. More here.
Question: Is the reach-out-and-touch aspect of the Capital for a Day program, worth $8,200 per month to the Idaho taxpayers?
---
---