Wed., April 28, 2010, 11:17 a.m.
Rammell Campaign To Use T-Rex
GOP gubernatorial challenger Rex Rammell, who's campaigned for office in the past by driving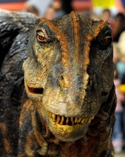 a giant, decorated RV around the state that doubles as a rolling campaign billboard, plans to unveil a new gimmick tomorrow: A giant model of a 16-foot tyrannosaurus rex dinosaur, "which will be pulled behind the Rammell for Governor RV throughout Idaho," the Rammell campaign said in an announcement. The large model will "be used to communicate his states' rights message about stopping the federal government from usurping state authority," according to an announcement of tomorrow's press conference/dinosaur unveiling/Betsy Russell, Eye On Boise. More here.
Question: Is there any possibility at this point that you'd vote for Rex Rammell in the GOP race for governor?
---
---