Tue., Aug. 10, 2010, 12:18 p.m.
Idaho OK w/Concealed Weapon Permits
The state of Utah, one of Idaho's neighbors to the south, has seen a steady rise in concealed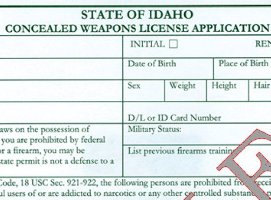 weapons permits over the past few years that highlight some differences in how the states handle letting citizens carry firearms. A key difference between Idaho and Utah is portability—people who hold Utah's concealed weapons can use those permits to legally carry a gun in 32 states across the country, including Idaho.  Idaho's permit is good in just 26 states, according to the National Rifle Association (NRA). Idaho also recognizes a concealed weapon permit issued by any state in the U.S/Brad Iverson-Long, Idaho Reporter. More here.
Question: Do you agree with Idaho's policy to recognize concealed weapons permits issued by any state?
---
---