Fri., Aug. 13, 2010, 8:40 a.m.
Dr. Laura Apologizes For Using N-word
Talk radio host Dr. Laura Schlessinger has issued an apology for saying the N-word several times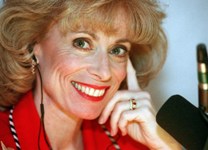 during an on-air conversation with a caller this week. "I talk every day about doing the right thing. And yesterday, I did the wrong thing," Schlessinger said on her radio show Wednesday. "I was attempting to make a philosophical point, and I articulated the N -word all the way out -- more than one time. And that was wrong. I'll say it again -- that was wrong." Schlessinger was referring to a call she got on her show Tuesday from an African-American woman who said she was married to a white man and was getting fed up with her husband allowing his family and friends to say things that she felt were racist/CNN. More here. (AP File Photo/Susan Sterner)
Question: Should there be further repercussions against Schlessinger? Or is her apology sufficient?
---
---