Mon., Aug. 16, 2010, 3:14 p.m.
How Jerry Kramer Got 1st Game Ball
You sports fans out there know that game balls are routinely given to players who performed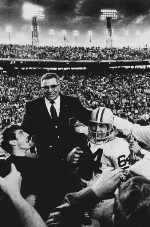 exceptionally well during a football game. I bet you can't guess how Sandpoint High/UI/Green Bay Packer great Jerry Kramer received his first game ball without playing a down in Sandpoint's 45-0 victory over Bonners Ferry in his junior year. He was laid up after nearly blowing his arm off with his grandfather's old double-barrel, 10-gauge shotgun, while duck hunting with another Bulldog star George Kom. Seems Kramer used the wrong end of the gun to poke a ball of moss into the water from his perch of a two-story high rock. And it went off. In Kramer's "Farewell to Football" (my $1 garage sale find), the future NFL star said his arm looked like hamburger afterward. "I'd caught 15 or 20 pellets of No. 2 shot, pretty good-sized shot, in my side, and it burned like hell." He credits local physicians Bill Hayden, Neil Wendle, & J.P. Munson with saving his arm. More: Jerry Kramer's Wikipedia page. (AP file photo: Jerry Kramer (No. 64) helps carry Vince Lombardi off field after Green Bay's 33-14 win over Oakland in Super Bowl II in January 1968)
Question: Did you know who Jerry Kramer is before I brought him up in two posts today?
---
---