Mon., Aug. 16, 2010, 9:47 a.m.
Kerri: I Remember Day Elvis Died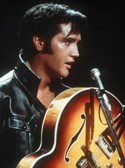 On Facebook, Kerri Thoreson writes: "I know exactly where I was 33 years ago today ... sitting by the pool at the Portland apartment complex we managed while my little girls splashed. Couldn't believe the news on the radio, Elvis was dead at age 42." I was more of a Rolling Stones/Beatles/Animals fan than an Elvis Presley fan. But I remember watching the famous "Ed Sullivan Show" -- my family always watched it together back in the day -- in which producers filmed Elvis from the waist up to keep those gyrating hips from public view. I remember the day that Janis Joplin died better than the day Elvis did. How about you?
Question: Do you remember what you were doing when Elvis died?
---
---