Wed., Aug. 18, 2010, 8:31 a.m.
Dr. Laura Bows Out After N-Word Rant
A week after igniting controversy with racially charged comments on her nationally syndicated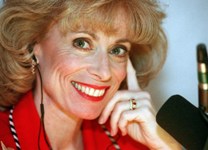 radio show, advice guru Laura Schlessinger went on "Larry King Live" Tuesday evening to announce that she plans to leave the program when her contract runs out at the end of the year. "I want my 1st Amendment rights back, which I can't have on radio without the threat of attack on my advertisers and stations," Schlessinger said. She emphasized that she is not retiring. "I will be stronger and freer to say my mind through my books, my YouTube Channel, my blog and my website," she said/Los Angeles Times. More here. (AP Photo/Susan Sterner, File)
Question: Are you going to miss Laura Schlessinger's show?
---
---