Thu., Aug. 19, 2010, 3:14 p.m.
$1.5M For Corridor, $500K For McEuen
LCDC exec Tony Berns tells Hucks Online that the $2M budgeted for next year by the agency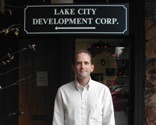 for the Education Corridor ($1.5M) and McEuen Field upgrade ($500,000) is a guesstimate. The values "may be amended once the planning efforts for both initiatives are completed later this calendar year." Also, he said, LCDC may look to borrow funds "to partner on both initiatives," If the two planning efforts come in with big price tags. Bottom line, he said, "it is still too early to know how much the two projects will cost to complete, and thus too early for LCDC to clearly define its financial partnership role in each." (No Coeur d'Alene Press reporters were fired in the making of this post.)
Question: Do you support LCDC's financial involvement in McEuen Field/Education Corridor upgrades?
---
---