Thu., Aug. 19, 2010, 8:33 a.m.
Mountain West Hijacks 2 WAC Teams
Another tumultuous day on the college athletics landscape left the Mountain West Conference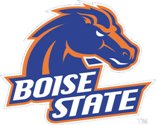 with two new teams, the Western Athletic Conference in peril and BYU's future in limbo. Fresno State and Nevada accepted invitations Wednesday to join Boise State in the Mountain West. Boise State moves in the summer of 2011, but it's still unclear whether Nevada and Fresno State will take that step in 2011 or 2012. The schools missed the July 1 deadline to leave the WAC for 2011-12, but there is room for negotiation. ... The departures will leave the WAC with six members and could block BYU's reported intention to leave the Mountain West to play football as an independent and in the WAC in all other sports/Chadd Cripe, Idaho Statesman. More here.
Question: What should the Idaho Vandals do now?
---
---