Thu., Aug. 19, 2010, 2:58 p.m.
Storm Unhappy w/Shock Vuvuzelas
From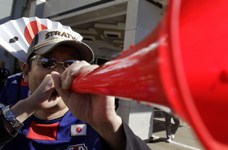 In the Huddle with JD: "With the game being played in Spokane, the Shock are trying to do whatever they can to increase their home field advantage by selling vuvuzelas. For those not in the know, vuvuzelas are obnoxious horns that are all the rage in South Africa at soccer matches. The horns made the soccer events almost unwatchable. Distributing the horns is tip toeing on a gray area in the rules. The AFL does not allow mechanical noise makers. There is debate whether or not the vuvuzelas fall in that category/Jason Dixon, Tampa Bay Storm Arena Football League Web official Web site). More here. (AP file photo of World Cup vuvuzela, for illustrative purposes)

Question: Should vuvuzelas be allowed at the Arena Football League championship in Spokane Friday afternoon?
---
---