Outside: Boise Best Town In West
Boise, to put it mildly, has been on a roll. Government, education, and health care remain core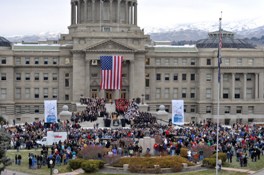 industries, but dozens of high-tech startups have moved to town, joining behemoths like Hewlett-Packard and Micron Technology. And while its population has more than doubled in the past 30 years and jaded locals bemoan the sprawl, Boise has managed its growth impressively well: The city is home to nearly 2,000 acres of parks and a 25-mile greenbelt. The outlying areas feel a bit bland, but the older neighborhoods have that Boulder vibe—cruiser bikes, farmers' markets, and prayer flags—only with reasonably priced homes/Outside. More here.
Cutline: Hundreds turned out to witness the rededication celebration for the Idaho  capitol building on Jan. 9 in downtown  Boise. (AP Photo/Idaho Press-Tribune, Charlie Litchfield)

Question: Do you agree with Outside mag that Boise is the best town in the West?
---
---