Fri., Aug. 20, 2010, 8:38 a.m.
Palin: It's 'Ground Zero Mosque'
Former Alaska Gov. Sarah Palin (R) called out The Associated Press on Twitter Thursday for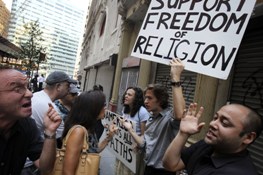 its decision to avoid the term "Ground Zero mosque" in its coverage. She also knocked House Speaker Nancy Pelosi (D-Calif.) for suggesting Wednesday that the funding for the project's opponents merits scrutiny. "Pelosi's investigation of Harry Reid&Howard Dean&others who oppose Ground Zero Mosque will be enlightening, we're sure," Palin began, noting a comment made by Pelosi during a radio interview that just as the public should know about the mosque's backers, so should they know who is funding its opponents. Senate Majority Leader Harry Reid (Nev.) and former Vermont Gov. Howard Dean are two high-profile Democrats who oppose the mosque in its proposed location/Elise Viebeck, The Hill. More here
Cutline: Pedestrians stop to argue with Abu Rahman, right, Matt Sky, second from right, and Julia Lundy, third from right, as they stand in front of the site of a proposed  mosque near  ground  zero in New York on Thursday. (AP Photo/Seth Wenig)

Question: What do you make of the policy by the Associated Press to avoid the term 'Ground Zero mosque' in discussing the controversial proposal?
---
---