Mon., Aug. 23, 2010, 1:18 p.m.
Cis: Reaching Your Breaking Point
Who of us of the work force, hasn't thought that ("Take This Job and Shove It") at least once and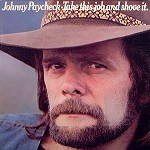 actually many times. ... Even housewives have thought it. Some have actually ran away … I sent a friend many years ago, into fits of laughter when he caught me talking to myself. I was on the floor scrubbing with a brush some extra heavy dirt or stains. And mumbled aloud … "I am going to break out of this joint one of these days". So when we see in the media that some one has finally reached the breaking point, we understand. ... We all have different breaking points. Some of them (are) stretched to the max due to survival. Some who can't take it anymore but can't put their families in jeopardy. Or in this day and age, are so grateful for a job in a jobless market, that endure all kinds of abuse in the workforce. Sadly some bosses know that.
Question: Have you ever gone Johnny Paycheck on a boss and told him to "Take This Job and Shove It"?
---
---