Mon., Aug. 23, 2010, 10:20 a.m.
OTV Review: Iron Horse Surprises
Whether my comment was funny or not is arguable, but it wasn't entirely based in humor. My prior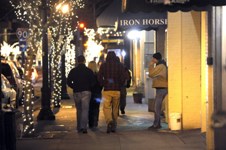 experiences at the Iron Horse hadn't been so fantastic. Lackadaisical service, questionable cleanliness, and unremarkable cuisine were the main issues, and really, what's left to love after that? Perhaps they were just having a bad day or two, perhaps a bad year or two, but I can't say I was too broken up about getting 86'd for good. So when I decided recently that enough time had passed and hopefully I wouldn't get beat up or be asked to leave, I arranged to meet a friend at the Iron Horse for lunch. After one of the most enjoyable and relaxing experiences I've had dining out in recent memory, I'm happy to finally eat my words and retract anything rotten I've said about the downtown landmark in the past/OrangeTV, Get Out! North Idaho. More here.
SR photo: Jesse Tinsley snapped those photo last Dec. 29, two days before my wife & I enjoyed a wonderful New Year's Eve meal at the Iron Horse, my mother-in-law's favorite place in town.

Question: What has been your dining experience at the Iron Horse?
---
---