Mon., Aug. 23, 2010, 8:20 a.m.
Travelogue: Bring Back Hydroplanes
Travelogue: Growing up I attended numerous Hydroplane races. I've been to some where the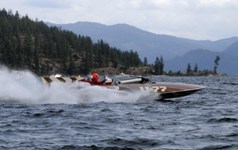 crowds were very unruly and out of control. Over the years and at the last few races I attended I noticed the promoters had things well in hand. There were no more A-Holes during those events than you'd find at any other event like Car d' Alene etc. In the late 60's CDA didn't have the infrastructure to handle the crowds, and the promoters didn't provide their own crowd management. Drinking wasallowed everywhere. Now a days CDA has grown. Hotels, Restaurants and facilities to handle large crowds as we do with the many other events hosted here. The Hydroplane events today are very well organized and the potentials our few old fuddy duddy's worry about are kept very well in check. (SR photo: J. Bart Rayniak)
Question: Do you think crowds watching hydroplane races on the Lake Coeur d'Alene north shore and it downtown Coeur d'Alene would be easier to handle today than they were in the 1960s?
---
---