Tue., Aug. 24, 2010, 4:26 p.m.
Judge Revokes Permits For Huge Loads
An Idaho judge has revoked special permits issued by the state to allow ConocoPhillips to ship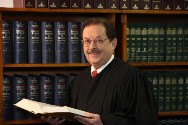 four oversized loads of oil refinery equipment along a highway that follows a winding, federally protected river corridor in northern Idaho. Second District Judge John Bradbury ordered the Idaho Transportation Department to study the permit request again and take action to ensure the safety and convenience of the public. Last week, Bradbury put a temporary halt to the oil company's plans to ship the massive coke drums along the 175-mile stretch of U.S. Highway 12. He issued his opinion today, after hearing testimony on the case on Monday/Betsy Russell, SR. (Courtesy photo from Judge John Bradbury's Supreme Court run)

Question: Did Judge John Bradbury make the right call?
---
---