Wed., Aug. 25, 2010, 2:32 p.m.
DanG: 'People Will Die' In Attack
At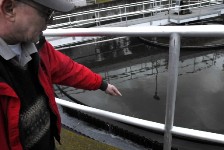 the Coeur d'Alene Press online site, Dan Gookin of OpenCDA.com and a poster pseudonymed RadRevD are discussing the city's decision to buy insurance against terrorist attack. RadRevD wonders if the insurance will make Coeur d'Alene whole, if there's some sort of attack against a chemical source that could pollute the Spokane River and Rathdrum aquifer. Gookin responds by returning to an old complaint that the city has refused to show a disaster plan for meltdown of some sort at the wastewater treatment plan on national security grounds. Continues Gookin: "My guess is that they don't show the plan because FEMA gave them a D or an F on it. That's most likely because PEOPLE WILL DIE (his caps not mine)." (SR 2007 file photo: Then Coeur d'Alene wastewater superintendent Sid Frederickson points out how dead bacteria settle in treatment tank.)

Question: Are you concerned re: a terrorist attack that would target the wastewater treatment plant in Coeur d'Alene?
---
---