Fri., Aug. 27, 2010, 11:14 a.m.
Marc: John McCain No Longer Maverick
There once was a time when Arizona Sen. John McCain warmly embraced the label "maverick." He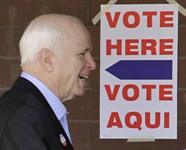 seemed to delight in taking positions at odds with his party - or even his state's - orthodoxy. He had established himself firmly in the tradition of some of the great Senate mavericks of the past - LaFollette, Borah, even Goldwater. But just as BP's "Beyond Petroleum" brand washed away in the Gulf oil spill, so has McCain's maverick brand forever vanished thanks to his presidential election run and his ugly, but still decisive, victory yesterday in the GOP primary in Arizona. McCain, by all odds, will be back in the Senate post-November, but not as a maverick and likely not ever again as an interesting, important American political player/Marc Johnson, The Johnson Post. More here. (AP file photo)
Question: Which national politician today best exemplifies the label "maverick"?
---
---