Fri., Aug. 27, 2010, 1:06 p.m.
Sheriff: No Cop Intends To Hurt Public
Sheriff (Ozzie) Knezovich, shown in Dan Pelle/SR photo, acknowledged the concerns of Spokane Valley residents and the outrage many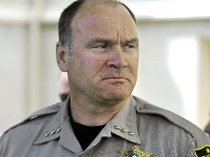 feel about what happened that night. Creach was a 74-year old pastor at Greenacres Baptist Church. But, Knezovich also says it's important to let the investigation play out before citizens jump to conclusions. He also acknowledged the feelings experienced by the police officer who fired the shot, saying "We do our best our there to protect the public. No police officer goes to work intending to hurt one of the citizens they're sworn to protect"/Melissa Luck, KXLY. More here.
---
---