Mon., Aug. 30, 2010, 9:47 a.m.
Iupati Gets Rave Reviews In Preseason
Throw all the small-school talk out the door. Niners left guard Mike Iupati is as NFL-ready as any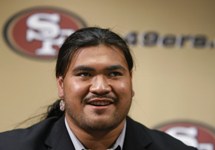 rookie offensive lineman in the league. Just ask Raiders coach Tom Cable, who went out of his way to congratulate Iupati after the 49ers' 28-24 victory over the Raiders in Saturday night's exhibition game at the Coliseum. "He's going to be a good one," said Cable, a former Idaho offensive lineman, just like Iupati. Pro Bowl running back Frank Gore agrees, citing the monstrous hole Iupati forged on his 49-yard carry up the middle on his first touch of the preseason/David White, San Francisco Chronicle. More here.
Question: Are you going to follow the 49ers this year to watch ex-Vandal Mike Iupati play?
---
---