Mon., Aug. 30, 2010, 8:17 a.m.
Maggie's Ghost Still Haunts Jameson
Maggie the Ghost needs to get busy throwing plates and shattering coffee cups. Legend has it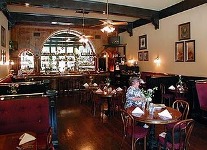 that a woman named Maggie checked into Wallace's Jameson Inn decades ago and never really checked out. Apparently, she waited patiently in her room for months and months for her rich suitor to return from a trip back east, and he never did and though she finally gave up and left the hotel in life, in death she has returned to wait it out for eternity. I can't blame Maggie for being in a rotten mood, but unfortunately her bad vibes seem to have put a curse on the service level and quality of food in the old Inn's restaurant/OrangeTV, Get Out! North Idaho. More here.
Question: OTV had a bad experience trying to get a hamburger and then nachos at the Jameson in Wallace. Have you had a better experience eating at the Jameson?
---
---