Tue., Aug. 31, 2010, 1:16 p.m.
KBOI Poll: 60% Say Obama Muslim
Sixty percent of listeners who responded to an online survey by the Boise radio station say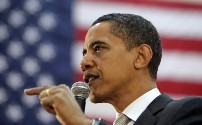 President Barack Obama is a Muslim, more than twice the figure in a recent national poll. Fifty-five percent of respondents to the non-scientific poll said Obama is a foreign-born Muslim and 5 percent said he is a native-born Muslim. Another 5 percent said Obama was Christian, but foreign born. KBOI host Nate Shelman said Tuesday afternoon that 716 respondents replied to the online poll Monday and Tuesday. During Monday's show, Shelman discussed a Newsweek poll that found 24 percent of respondents said Obama was a Muslim/Follower of Islam/Dan Popkey, Idaho Statesman. More here.
Question: What do you make of this Boise area poll?
---
---