Wed., Dec. 1, 2010, 11:29 a.m.
Sherman Alexie Book Faces Protest
A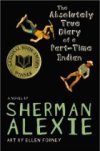 Helena woman says a book used in sophomore English classes at Helena Public Schools is obscene and vulgar, and she wants it removed. Michele Smith submitted a request for reconsideration of educational materials to the central office for "The Absolutely True Diary of a Part-Time Indian," by Sherman Alexie. A public hearing is scheduled for 4 p.m. Thursday, Dec. 2, at the Front Street Learning Center. Smith read the book after her daughter expressed being uncomfortable reading it as an assigned book for her class at Helena High School. ... The teacher helped the family opt out and selected a different book for the assignment, but Smith says that's not enough/Alana Listoe, Helena Independent Record. More here.
Question: I can see a parent asking a teacher to opt his/her child out of a reading assignment involving a book that might be too 'adult' for the child. I did that when Junior was a freshman in high school. But I find it bothersome that the parent wants to impose a blanket ban. How about you?
---
---